La Festa Di Natale Pittston
Holiday Market Village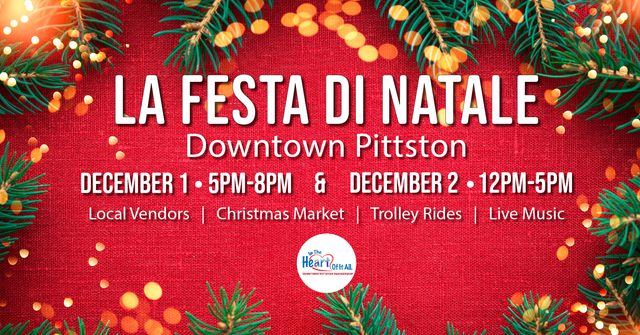 Description
Join the Downtown Pittston Partnership and the City of Pittston for the 3rd Annual La Festa Di Natale.
A Holiday Market located in the middle Tomato Festival Lot on Friday, December 1st, from 5 p.m. to 8 p.m. and Saturday, December 2nd, from 12 p.m. to 5 p.m. Enjoy local vendors inside a circus-sized heated tent. Have dinner at one of our downtown restaurants and then stop by the Holiday Market Village and visit our local small businesses.
December 1, 2023
5:00PM-8:00PM - La Festa Di Natale Christmas Market
December 2, 2023
10:00AM-12:00PM - Shop with a Cop (La Festa Closed to the Public)
12:00PM-5:00PM - La Festa Di Natale
6:00 PM - Toy Truck Parade
6:30 PM -Tree Lighting & Santa's Arrival
7:00 PM More Performances/Christmas Music and visiting with Santa.
Admission and Parking Free.
Downtown Pittston Partnership
71 South Main Street, Pittston, PA 18640
5:00 PM EST
to 8:00 PM EST